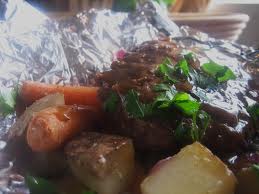 Ingredients:
Ground Beef
Carrots [baby, cut on angle]
Onions [Sliced]
Potatoes [cut into fries)
Salt
Pepper
Procedure:
Prepare desired number of aluminum foil sheets
Blanch carrots for 10 minutes
Blanch potatoes for 7 minutes
Sauté onions until translucent
Slice onion and distribute evenly onto foil
Add the carrots and potatoes
Season the carrots, onions, potatoes with salt and pepper
Form ground beef into individual patties and place in center of foil (season with salt & pepper)
Wrap tightly in foil and place the packages on a wire rack.  Place on top of a sheet pan to prevent drips.
Place in 350°F oven for 1 hour.