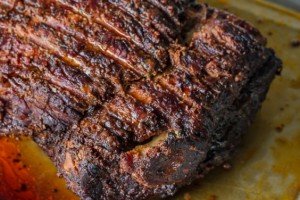 Ingredients:
1/4 cup Dry Rub
6-9 lb Pork Shoulder
Hardwood chunks or chips
Mop Sauce
Glazing Sauce
Procedure
Prep
Trim excess fat and score the fat-cap in a cross hatch pattern.  Make sure to score down to the muscle.
Apply rub to all exposed surface areas.
Wrap in cling film and place in refrigerator overnight.
Cook
Bring the smoker to temperature (225°F) and place the meat inside (fat cap facing upward)
Continue to smoke until internal temperature reaches 150°F
Remove from smoker and place in a foil pan (fat cap facing downward).  Cover with heavy duty aluminum foil and seal tightly.
Place the foil pan on the smoker and continue cooking until internal temp reaches 203°F.
Uncover and allow bark to firm up.  Do not remove the meat from the pan.
When bark is firm, remove from smoker
Take the meat out of the pan and wrap it in heavy duty foil and a few towels.  Allow the meat to rest for a few hours.
Strain the drippings from the foil pan and allow the oils and fats to separate.
Discard the fatty/oily layer
Reduce the remaining liquid and add to the finished pulled pork, or stir into accompanying sauce.
When the pork has rested, process it to the desired consistency or texture and ENJOY!