Ingredients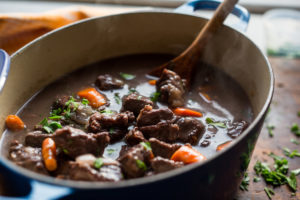 ---
Ingredients:
2 pounds Sirloin – Cubed into rough 2 inch blocks
1/2 cup Flour – All-Purpose
2 Tbsp Olive Oil
2 Bay Leaves – Dried
1 Large Garlic Clove – Chopped
1 Yellow Onion – Diced
2 cups Carrots – Diced
1 tbsp Fresh Thyme – Chopped
1 tbsp Fresh Rosemary – Chopped
¼ teaspoon Red Chili Flakes [Crushed Red Pepper]
1 cup Guinness Stout
4 cups Beef Broth
---
Procedure:
1. Dredge the beef in flour and make sure all sides are lightly covered.
2. Remove steak from bag and set aside – shake excess flour back into the bag
3. Heat the olive oil ( ~medium heat ) in a large Dutch-oven – add the steak and turn until all sides are well browned
4. Remove the steak and set it aside
5. Add a little more oil to the Dutch-oven and loosen any fond in the bottom of the dutch-oven
6. Create a light brown roux by slowly stirring the remaining flour into the hot oil
7. Add the Guinness and lightly whisk to combine with the roux
8. Add the beef broth, bay leaves, garlic, onions, carrots, thyme, rosemary, crushed red pepper
9. Season to taste with salt and black pepper
10. Bring this mixture to a boil
11. Nest the meat into the liquids, leaving some of the edges exposed
12. Cover the Dutch-oven and move it to a 350° oven to braise for 2½ – 3 hours ( the liquids should reduce a bit, and have a "saucy" consistency)
13. Discard bay leaves before serving
14. Expo by placing fresh mashed potatoes in the center of a soup bowl –  ladle the stew around the potatoes – Garnish the potatoes with a large cheddar cracker
15.  Don't forget to pour yourself a tall Guinness!
Note – If the stew needs to be thickened, create a slurry by adding 1oz of cornstarch to 2oz of water and whisking.  Add this to the stew while at a simmer.
---
Source: Rose & Crown Pub – Walt Disney World, Epcot World Showcase