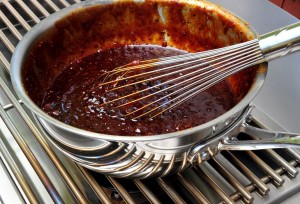 Ingredients:
Kraft Original BBQ Sauce – [40 oz.]
1 Onion – [ large, chopped ]
1.5 tbsp Worcestershire Sauce
1/2 cup Molasses
1 cup Brown Sugar
Cayenne Pepper – [to taste] [something on the order of 1/4 to 1/2 tsp]
Procedure:
Sweat the onions in a small pan.  Spray with water to create steam.
When the onions are softened, stir in the remaining ingredients
Simmer the mixture for a few hours before using as a BBQ glaze.