Peanut Butter Delights
Posted 2017/03/15
By
Ryan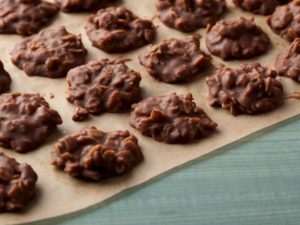 Ingredients:
1/2 cup Milk
2 cups Sugar
1/4 cup Butter
4 tbsp Cocoa Powder
1/2 cup Peanut Butter (crunchy or smooth) (135 grams)
2 ½ cups Oatmeal
Procedure:
Heat milk on stove in a small pot.
Add the butter and stir until melted
Whisk in the sugar and the cocoa (combine the cocoa and sugar beforehand to reduce clumping cocoa)
Bring mixture to a rolling boil and continue to stir for 2 minutes
Remove from heat and stir in the peanut butter.  Blend thoroughly.
Stir in the oatmeal quickly, before the mixture cools and solidifies.
Drop the "dough" onto wax paper in heaping tablespoons.  Allow to cool.