Fesperman Red Slaw (Lexington/Albemarle Style)
Posted 2014/08/21
By
Ryan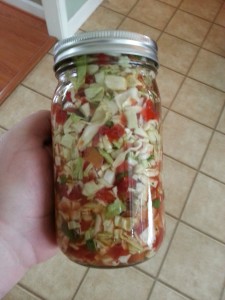 Ingredients:
1 large cabbage

1 large jar pimentos

1 bell pepper

1 cup apple cider vinegar

¾ c. sugar

1 teaspoon Salt

1 cans petit diced tomatoes

1 can Rotel diced tomatoes and green

chili peppers (original)

¼ teaspoon ground black pepper or to taste
Procedure:
Chop cabbage, pimentos, and green pepper. Combine all ingredients in a bowl and mix well. Store in refrigerator until ready to serve.
Source: David Fesperman 1998